Discover more from Tuttle Ventures Newsletter
We invest so you can do the rest. Actionable market insights with unique ideas and interesting research to make you a better investor.
Over 2,000 subscribers
The Bronze Age for RustDesk
Actionable Market Insights from Tuttle Ventures
Welcome to +55 new subscribers this week & +352 over the last 90 days!
If you are looking for unique investment ideas backed by interesting research, you have come to the right place.
We are grateful for 14 Substack publications that now recommend our newsletter.
I highly encourage newcomers to go back and read through our past 70+ newsletters since we launched Tuttle Ventures.
This week is part of our private equity series.
Past Issues Include: Boxabl, Socket Security, Midtown National Group (MNG), Sandlot Partners
All available — in the archive for our subscribers.
Newsletter rundown:
The Bronze Age for Commercialized Open Source Software

The Rise and Fall of Citrix

RustDesk has entered the Chat

Final Word
The Bronze Age for Commercialized Open Source Software
The Bronze Age marked the first time humans started to work with metal.
Bronze tools and weapons soon replaced earlier stone versions.
Ancient Sumerians in the Middle East may have been the first people to enter the Bronze Age where the tools and weapons of the day became stronger and more durable, replacing the core input materials for production.
The change allowed a population increase in the area since farming and hunting became more efficient and could support more people.
We are now entering the Bronze Age for Commercialized Open Source Software (COSS).
Let me explain.
We are at the point today where open source is poised to become the primary economic model for core development of software because of its unique ability to innovate, scale, and generate revenue.
Open source software is a type of computer software in which the source code, or underlying programming language, is made freely available to the public. This means that anyone with the necessary technical know-how can view, modify, and redistribute the code to create their own versions of the software. Open-source software can be developed collaboratively by large teams of volunteers working together—known as "community-driven development."
In addition, the tools created by Feross Aboukhadijeh at Socket Security provide the critical security layer to implement at scale:
🕵️‍♂️ Developers can use the free
socket.dev
package search tool to quickly evaluate the security and health of any PyPI package. Socket detects 70+ red flags in OSS code, including malware and typos. For our initial Python release, we're focused on typosquats. 6/10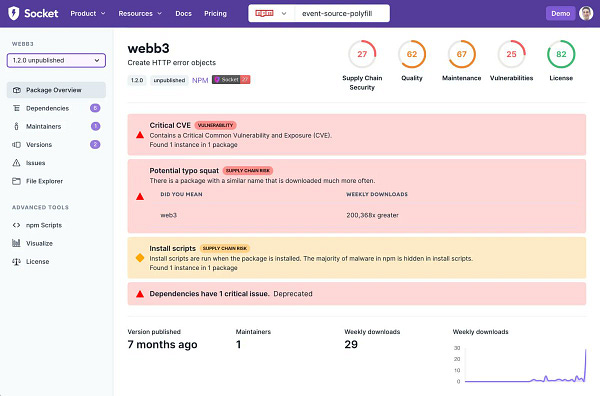 As we wrote back in May of 2022, open source has always been, and still is, the best possible way to create new software.
According to the 2023 State of Open Source Report from OpenLogic by Perforce Software, 80% of organizations increased their use of open-source software over the last 12 months.
The importance of a free and open internet cannot be understated.
The Rise and Fall of Citrix
Citrix Systems, Inc. is an American infrastructure software company best known for delivering virtual workspaces.
Citrix products were claimed to be in use by over 400,000 clients worldwide, including 99% of the Fortune 100, and 98% of the Fortune 500 companies.
According to Wikipedia, The company's first product was Citrix Multiuser, an extension of OS/2 developed over two years. Citrix licensed the OS/2 source code from Microsoft, and developed its own Independent Computing Architecture (ICA) protocol for Citrix Multiuser. Multiuser allowed multiple users working on separate computers remote access to software on a server, even from computers not built to run OS/2.
Remote access eliminates the need for the physical presence to log into a system.
For the last 34 years, Citrix dominated virtual desktops and end user computing.
Over time, the company enjoyed the benefits of a dominant lead in market share without leading in market innovation.
Covid-19 and the work from home movement exposed the flaws in Citrix's mighty technological armor.
Some believe that Citrix lost their way when Mark Templeton left, while others think Citrix became too big for its own good.
The main problem with Citrix is its overly complex architecture and licensing structure. A typical Citrix infrastructure has too many components and interdependencies.
Ask any data architect the trauma they went through trying to use Citrix systems to move their entire workforce remote during the pandemic.
At a time when the Company should have been growing revenues, sales declined from 2020 to 2021.
The legacy business model just didn't work.
To save the company, Citrix was taken private in an all cash deal valued at $16.5B by Elliott Management and Vista Equity Partners.
The deal from start to finish was poorly executed.
Wall Street banks realized roughly $600 million of losses after offloading financing commitments for the buyout of Citrix, according to Jon Shazar in his article: Hey, This Whole Citrix Deal Could Have Been A Whole Lot Worse.
The deal reveled the market opportunity and the high stakes of poor implementation.
With the deal now closed in 2022, a new era for virtual desktops is in store.
RustDesk has entered the Chat
RustDesk is the open source virtual / remote desktop infrastructure for everyone.
RustDesk is able to function without additional tools like VPNs or port forwardings, even behind firewalls or NATs.
No configuration is required and you can use a public rendezvous/relay server, self-hosting, or write your own server.
The community releases are free of charge for self hosts and no license is required.
You can checkout the Github page for RustDesk here.
When compared to the popular competitor AnyDesk, RustDesk is a far more straightforward and easy-to-use tool with almost zero setup time.
Back in September 2021 AnyDesk raised $70M at a $660M+ valuation. AnyDesk software has been downloaded 500 million times since it was founded in 2014, and on average it sees more than 900 million sessions each month.
I believe RustDesk has the potential to become a $1B unicorn not just because of the surge of remote and hybrid working but the open source foundation it is built upon.
We will continue to track this company and give updates to our readers.
Final Word
Thank you for reading.
I am grateful and humbled to be able to learn, grow and invest alongside you at Tuttle Ventures.
Vision, Courage and Patience leads to successful investing.
Best,
Darin Tuttle, CFA
This is not investment advice. Do your own due diligence. I make no representation, warranty or undertaking, express or implied, as to the accuracy, reliability, completeness, or reasonableness of the information contained in this report. Any assumptions, opinions and estimates expressed in this report constitute my judgment as of the date thereof and is subject to change without notice. Any projections contained in the report are based on a number of assumptions as to market conditions. There is no guarantee that projected outcomes will be achieved.
Neither the publisher nor any of its affiliates accepts any liability whatsoever for any direct or consequential loss howsoever arising, directly or indirectly, from any use of the information contained herein.
Unless there is a signed Investment Management or Financial Planning Agreement by both parties, Tuttle Ventures is not acting as your financial advisor or in any fiduciary capacity.